I wrote Penumbra to help me process images taken with the Meade Deep Sky Imager. With Penumbra you can stack FITS files created by the DSI and output 16-bit per channel TIFF files for further processing in Adobe Photoshop or any other image enhancement program.
The advantages of stacking images with Penumbra instead of Meade's Envisage software include:
Simple, automatic interface

A Penumbra workspace lets you organize your captured images. Separate your luminance frames and your color frames into different stacks.

Each stack is automatically aligned, compensating for both drift and rotation.

Automatic aspect ratio adjusment

Penumbra automatically compensates for the non-square pixels of the DSI II. If you are stacking images that have significant rotation, this adjustment will ensure the highest quality.

Automatic background level adjustment

When stacking, Penumbra automatically matches the background level of all images so that the output has a smooth, constant background.

Automatic alignment of RGB channels

Penumbra can align and stack together three separate filtered stacks (one each for red, green, and blue) and output a single RGB TIFF file.
To get started with Penumbra, consult the following pages:
Stacking Meade DSI Images
Tips & Tricks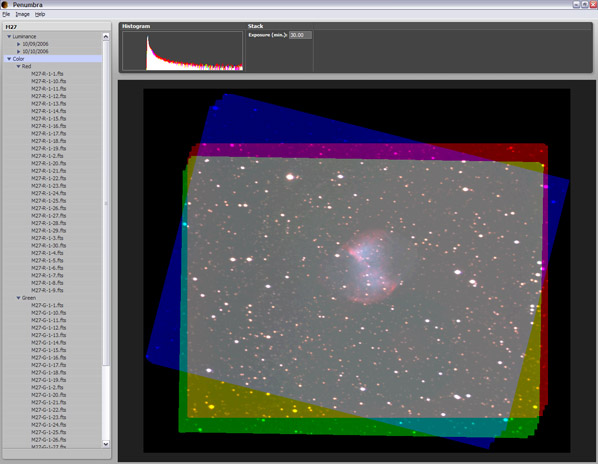 Penumbra is still under development. If you find problems with Penumbra, if you have questions, of if you just want to show off your images, please write to [email protected].