NGC 2903 doesn't get a whole lot of love. Charles Messier missed it when compiling his famous catalog. And when Sir Patrick Caldwell-Moore compiled a list of 109 objects to complement the Messier catalog, NGC 2903 was once again excluded. To be honest, I didn't think much of it either when I first set out to capture it, but after spending time revealing its wispy arms and after staring at its mesmerizing and intricate core, I have become a fan of this underappreciated galaxy.
Take a look at this close up from the Hubble Space Telescope. At first the chaos of dust and starlight seems dissonant, especially when compared to more orderly galaxies, like M81. But closer inspection reveals many interesting details. The bright, violet clumps are massive star factories: vast clouds of molecular dust illuminated by the bright glow of newborn star systems (see M8 for an example in our own galaxy). In fact, this galaxy is thought to have a very high rate of star formation, possible spurred by its large central bar.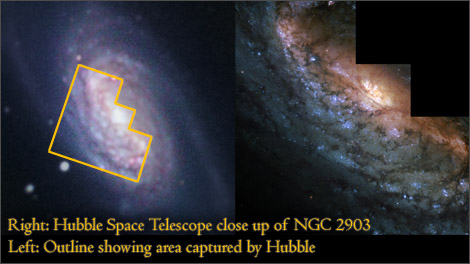 Imaging Notes
NGC 2903 is one of the easier galaxies to capture. But there are two details deserving of special attention. First, make sure that your exposure time is long enough to bring out its faint wispy arms. Without its long arms the galaxy will look truncated and much less interesting. Second, keep the core as sharp as possible. All of the interesting detail is in the core and the better the resolution, the better the image will be.
The core will generally be bright enough for aggresive sharpening. But be careful when using noise reduction tools: too many sharp edges in the core give the galaxy an unnatural look.
More Images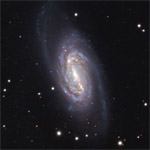 Chuck Domaracki
Meade 10" LX-200R — Meade DSI Pro II — LRGB 225:60:60:60 (5- and 4-minute subs)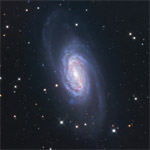 Robert Gendler
RCOS 20" RC (luminance) and 12.5" RC (color) — SBIG STL-11000XM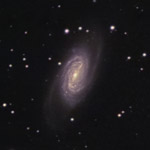 Chuck Reese
ED80 — Meade DSI Pro II and DSI II — LRGB 140:60:60:60 (4-minute subs)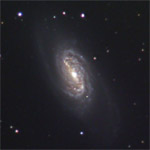 Gregg L. Ruppel
Celestron C8 f/6.3 — SXV-H9 — LRGB 120:10:10:10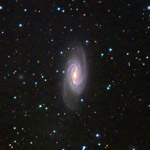 Mark Sibole
Meade 80mm Apo — Meade DSI Pro III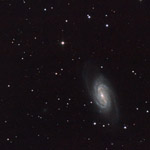 Jim Solomon
Celestron CN8 — Canon Digital Rebel (300D) — 35 × 5-minute exposures
All images ©copyright by their respective owners.
Want your image here? Send mail to: [email protected]